Group Photos

Jay Wyatt and Ralph Latham at the original Frish's mainliner for
Ralph's victory party after his Daytona 250 win.
Photo sent by Jim and John Poe

(Left to Right) Nick Longano, Ron Baker, Gene Crittendon, Floyd Gilbert,
Don Lamb, John Mugavin, Pat Patrick, Jerry Lipps, Vern LeFevers,
Bruce Gould, Tom Simmons, and Charlie Byrd at a 1969 Greater
Cincinnati Race Bowl (Glen Este) awards banquet.
Photo sent by AJ Longano-Camden

Back Row (Left to Right) Pat Patrick, John Mugavin, unknown,
Billy Teegarden, unknown.
Front Row (Left to Right) Floyd Gilbert, unknown, unknown, Nick
Longano. Unknown awards banquet.
Photo sent by AJ Longano-Camden

Don Bohlander (Left) and Larry Fabris (Right) at the
1970 Freeport Raceway Banquet.
Photo by Ron Thruman

(Left to Right) Gene Petro, Vern LeFevers, Floyd Gilbert at Whitewater
Valley Speedway Liberty 1971, Indiana.

(Left to Right) Morgan Chandler, Jay Wyatt, Georgeann Stemler, and
1971 RoY Nick Longano at C.A.R. Fan Club awards banquet.
Photo sent by AJ Longano-Camden

(left) Red Frederick b.s.'s with the late Gene Lodge after a race at Elkins
(WV) Speedway in the late 1970's.
Photo sent by Jimmy Henry

G
len Adams Jr. with Floyd Gilbert at Eldora Speedway in 1973.
Photo sent by Mike Bales

The 1973 Big E Banquet.
Back Row: ?, Dick Debolt, ?, and Alan Phillipi
Front Row: Red Harvey, Chick Hale, Gene Petro, ?, and Al Woodard.
Photo sent by Jim Gibson

The 1974 Big E Banquet.
Back Row: John Harrod, Hoer Vankirk, Dick Crider, Steve Egbert, and
Bill Helman.
Front Row: Glen Adams Jr., Kenny Rupert, Ronny Yount, Gene Johnson,
and Alan Phillipi.
Photo sent by Mike Bales

(Back Row L-R) Keith Altiers, Jon Osman, Steve Edminston,
C.J. Morrison,and Vern LeFevers.
(Front Row L-R) Ron Baker, Calvin Kenneda, Jim Kirpatrick, Rick
Arnold at the 1975 Brown County Speedway Banquet.

(Left to right) Unknown, Harold Redman, Frank Prince, Tye Long, Larry
Cantley, Tom Hapney, and Jim Dunn.
Photo sent by Teresa Barley

( L to R )Gene Lodge, Pat Herrick, Dave Reed, and Bill Moore.
Photo sent by Roger Warrick

( L to R ) Dick Jordan, Bobby Oney, Carl Jones, and Jim Oney.
Photo sent by Richard Neu

Earl and Bernice Baltes with the 1978 Eldora Speedway Track Champions
(L to R) Vern LeFevers (Late Model), Jim Linder (Sprints), and
Ed Hounshell (Stock Cars).
Photo sent by Nora LeFevers

(Left to Right) Keith Simmons, Dave Mesiel, and Jim Thruman at the
1979 Freeport, Illinois Speedway banquet.
Ron Thruman Photo

(Left to Right) Bill Morgan, Buck Simmons, Hot Rod LaMance.
Photo sent by Paper Man

(Left to Right) Hot Rod LaMance, Buck Simmons, Bill Morgan.
Photo sent by Paper Man

L to R Delmas Conley, Richard Callahan, Cecil Justice, Greg Stevens, Bob
Crace, Steve Francis, and the late Fred Dillow at Southern Ohio Raceway.
Photo sent by Kenny Patton and Darlene Herter

Muskinghum Co. Speedway All Star Circuit of Champions Late Models
awards race in October 1984. Left to Right: Donnie Moran,
Charlie Swartz, Mike Balzano, and Richard Hall.
Photo by Craig Shaw

( L to R ) Bobby Oney, Skip Watterman, and Courtney Clewell.
Photo sent by Jeff Grimes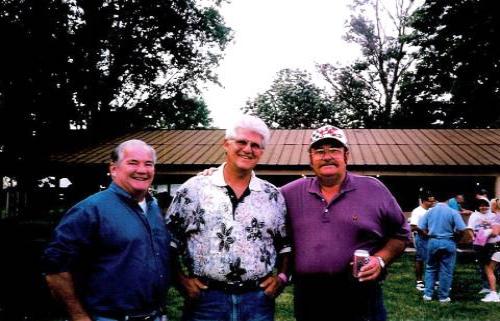 (L to R) John Mugavin, Nick Longano, and Denny Harris
at Lawrenceburg Speedway in 2003.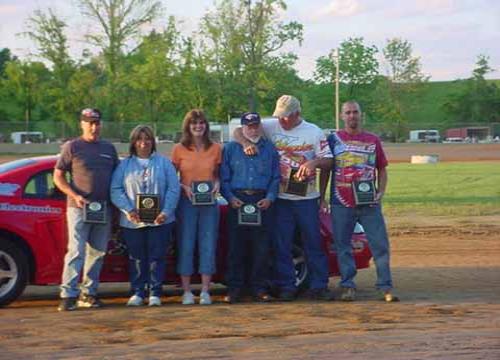 Inductees at the 2005 Hall of Fame classic at Brownstown, Indiana
Speedway. (Left to Right) Jack Brown Son of Harley Brown,
Beth Guthrie daughter of Gene Dalton, Robin King wife of Fred King
accepting for Russ Petro, Jim Curry, Ira Bastin
and Chigger Dalton son of Gene Dalton
Photo sent by Felica Nunn