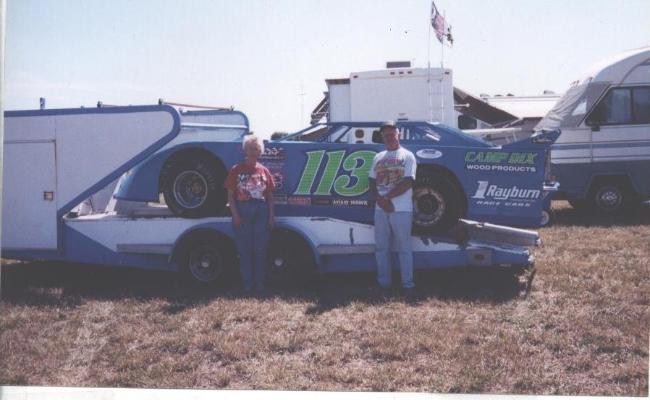 Dean and Elnora Fannin at the 2002 World 100 in front of JTodd LeFever's entry.

Dean and Elnora
Fannin Nominated by Justin
Logan

Dean and Elnora have been married since March 2nd, 1957.
They have a daughter Heather, and 2 grandchildren Larry
Dean, and Deidra.
Photos and full interview coming soon............

Elnora Fannin
Nominated by Justin Logan

Elnora Fannin went to her first race
with her husband Dean, and some
friends Delmer and Imogene Fultz, and
Ralph and Peggy Fultz in 1957 in
Mansfield, Ohio.

FAVORITE TRACK: I like them all.
Some of my favorite tracks to go to are
KC Raceway, Eldora Speedway, and
Portsmouth Raceway Park.

FAVORITE RACE: Too many to pick.

FAVORITE DRIVER: Too many to
pick.

MOST MEMORABLE MOMENT:
Friends

ANYTHING YOU WOULD CHANGE:
Time Control. If more tracks ran like
Eldora the fans, drivers, and crews
would benefit.

TRACKS ATTENDED:

OHIO
Mansfield
Eldora
Brushcreek
KC
Southern Ohio
Portsmouth
Skyline
Attica
Muskingum
Lexington

KENTUCKY
Florence
Bluegrass
Ponderosa
Mudlick Valley
Carter County
Fleming County
Thunder Ridge
Thunder Mountain
201
Mountain Motor
Hazard
Kentucky Lake
Willard
Half Mountain

INDIANA
Brownstown
Twin Cities....Closed
Jeffersonville

TENNESSEE
Bristol on Dirt
Volunteer
Cleveland
Atomic

ALABAMA
Eastern Alabama Motor

MISSOURI
West Plains

FLORIDA
Volusia County
East Bay
Jax

WEST VIRGINA
West Virgina Motor
Pennsboro
Elkins
I-79
Beckley

GEORGIA
Dixie
Rome
Golden Isle
Cordele

SOUTH CAROLINA
Cherokee

NORTH CAROLINA
Carolina
Friendship

WISCONSIN
Cedar Lake

MARYLAND
Hagerstown

PENNSYLVANIA
Pittsburg Pennsylvania Motor

DeanFannin
Nominated by Justin Logan

Dean Fannin went to his first race with
his wife Elnora, and some friends
Delmer and Imogene Fultz, and Ralph
and Peggy Fultz in 1957 in Mansfield,
Ohio.

FAVORITE TRACK: I like them all.
Some of my favorite tracks to go to are
KC Raceway, Eldora Speedway, and
Portsmouth Raceway Park.

FAVORITE RACE: Too many to pick.

FAVORITE DRIVER: Too many to
pick.

MOST MEMORABLE MOMENT: I
would say the 2003 North/South 100
sticks out in my mind. And all the
friends you meet

ANYTHING YOU WOULD CHANGE:
Time Control. If more tracks ran like
Eldora the fans, drivers, and crews
would benefit.

TRACKS ATTENDED:

OHIO
Mansfield
Eldora
Brushcreek
KC
Southern Ohio
Portsmouth
Skyline
Attica
Muskingum
Lexington

KENTUCKY
Florence
Bluegrass
Ponderosa
Mudlick Valley
Carter County
Fleming County
Thunder Ridge
Thunder Mountain
201
Mountain Motor
Hazard
Kentucky Lake
Willard
Half Mountain

INDIANA
Brownstown
Twin Cities....Closed
Jeffersonville

TENNESSEE
Bristol on Dirt
Volunteer
Cleveland
Atomic

ALABAMA
Eastern Alabama Motor

MISSOURI
West Plains

FLORIDA
Volusia County
East Bay
Jax

WEST VIRGINA
West Virgina Motor
Pennsboro
Elkins
I-79
Beckley

GEORGIA
Dixie
Rome
Golden Isle
Cordele

SOUTH CAROLINA
Cherokee

NORTH CAROLINA
Carolina
Friendship

WISCONSIN
Cedar Lake

MARYLAND
Hagerstown

PENNSYLVANIA
Pittsburg Pennsylvania Motor