C & S Motorsports

(Left to Right) Dave Cradler, Mark Cradler, and Bill Schildman at a
C.A.R. Fan Club Banquet.

C & S Motorsports was started in 1985 by Dave Cradler, Mark Cradler and Bill Schildman. The team started
in Sharonville Ohio, with cars driven by Fred Hall in the Late Model division at Queen City Speedway.The team
ran the familial # 9 Dr. Pepper car. After competing on asphalt for 5 years the team moved to the Dirt Late
Model division and driver Steve Landrum in 1991. The team moved to the # 18 for the car and the major sponsor
was Stihl Power Tools. The team fielded cars for Landrum in 1991 and 1992. They gave the ride to "Rookie"
Late Model driver, Jesse James Lay in 1993 and 1994 running the # 6. During the 1994 season the team split
and became owned by Dave and Mark Cradler. The new name was C & C Racing. Dave and Mark fielded cards
for Jesse James Lay, Brian Stinson in 1994. John "Weasel" Rhoades picked up the ride in 1995. The team quit
at the end of the 1995 season. Bill Schildman went on to work with Weasl Rhoades in 2002, 2003 and 2004.

After a couple of years off, Bill joined back up with Brian Stinson and Mark Cradler to create Stinson Racing.
The current # 12,Bicycle Playing Card sponsored car is co-owned and driven by Brian.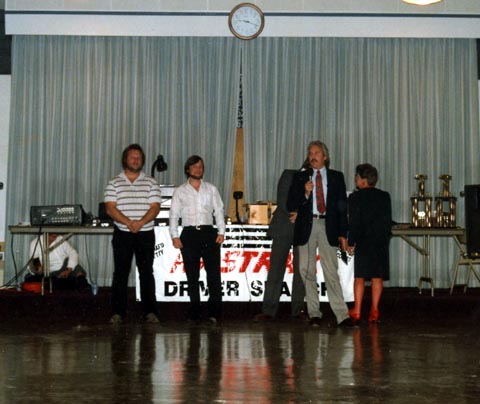 Steve Landrum and the C&S Motorsports crew after a 1991 Florence
Speedway win.

(Left to Right) Bill Schildman, Mark Cradler, and Dave Cradler at a
Cavalcade of Customs car show.

Jesse Lay with the C&S Motorsports crew after Florence Speedway win.