ADVANCE AUTO PARTS TENNESSEE
THUNDER DIRTCAR SERIES
WYTHE RACEWAY
Rural Retreat, Va
May 19, 2007

Photos by Tony Hammett

Pixman53@aol.com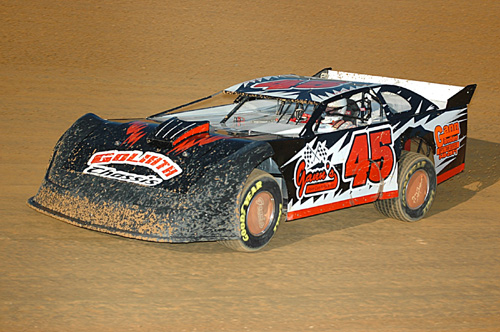 Phil Gann won the accompanying FASTRAK dirt late model
feature at Wythe Raceway.

Two-time defending series champion Anthony White paced the field of
29 entrants in qualifying in Rural Retreat, Va.

This is the view the field at Wythe had of Jimmy Owens following lap 28 as
he motored away to the $5000 win.

Petey Ivey (6) works past Rick Rogers (44) in the second dash. The
Union, SC driver paced the field from the outside pole for the first 28 laps
before his soft tires gave up as the track slicked over.

Jimmy Owens (20) works under Petey Ivey (6) to take the lead he would
not relinquish the rest of the way at Wythe Raceway during the inaugural
visit of the Advance Auto Parts Tennessee Thuinder Dirtcar Series.

Dennis "Rambo" Franklin (30) works on Petey Ivey (60 for second place
before seizing the spot and taking up the chase of winner Jimmy Owens.

Jimmy Owens (20) blasts the bottom line shortly before making the pass of
Dennis Franklin (30) for second and following that up with a pass of Petey
Ivey (6) for the lead he would hold until the checkers at Wythe Raceway.

Ricky Weeks (1) draws near Petey Ivey (6) in search of third spot, a
position he would snatch away from the early race leader who maintained
the point for 28 laps.

Jimmy Owens enjoys victory lane ceremonies at Wythe Raceway following
his impressive victory at the lightning-fast half mile.

Jimmy Owens scored his second career win at
Wythe Raceway on May 19, this one coming in
Advance Auto Parts Tennessee Thunder Dirtcar Series action.