2005 World 100

Photos below results

215 drivers attempted qualifying.
Fast Qualifer: Jimmy Owens new World 100 (not all time record) track record at 15.565
Jimmy Owens drew the '3' pill for the heat race inversion.

Heat #1: 1)Chub Frank 2)Jimmy Owens 3)Brad neat 4)RJ Conley 5)Delmas Conley 6)Wes Steidinger
7)Jerry Bowersock 8)Tim Hitt 9)Tony Marks 10)Jeff Floyd 11)Josh Williams 12)Tim Stemler 13)Timmy
Yeager 14)Hillard Miller 15)Steve Francis 16)Wendell Wallace 17)Rusty Schlenk 18)Rick Corbin
19)Randy Boggs 20)Earl Pearson Jr

Heat #2: 1)Darren Miller 2)Josh Richards 3)Shane Clanton 4)Dan Schlieper 5)Tim McCreadie 6)Duane
Chamberlain 7)Donnie Moran 8)Matt Miller 9)Brady Smith 10)Randy Weaver 11)John Mason 12)Jay
Johnson 13)Jason Montgomery 14)Anthony Adams 15)Jamie Elam 16)George Lee II 17)Tate Davenport
18)Michael Chilton 19)Daid Webb 20)Rodney Combs

Heat #3: 1)Shannon Babb 2)Greg Johnson 3)Rick Eckert 4)Ray Cook 5)Jimmy Mars 6)Kevin Weaver
7)Terry Phillips 8)Jeremy Williams 9)Skip Arp 10)Rod Conley 11)Darrell Lanigan 12)Audie McWilliams
13)Dennis Franklin 14)Kelly Boen 15)Garrett Durrett 16)Eric Jacobsen 17)Casey Noonan 18)Steve
Hillard 19)Steve Barnett 20)Mike Collins

Heat #4: 1)Clint Smith 2)Billy Moyer 3)Davey Johnson 4)Terry English 5)John Gill 6)Steve Casebolt
7)Brian Ruhlman 8)Brandon Kinzer 9)Dennis Erb 10)Jeep VanWormer 11)Bob Lanter 12)Chris Combs
13)Michael England 14)Wayne Chinn 15)Dennis Roberson 16)Robby Hensley 17)Dan Hoard 18)Josh
McQuire 19)Johnny Johnson 20)Chris Conley

Heat #5: 1)Dale McDowell 2)Billy Drake 3)Freddy Smith 4)Brian Birkhofer 5)Aaron Scott 6)Scott James
7)Jordan Bland 8)Keith Burner 9)Mark Voigt 10)John Blankenship 11)Jason Feger 12)Steve Landrum
13)Jason Keltner 14)Blake Chinn 15)Ben Adkins 16)Marc Kurth 17)Jeff Cooke 18)Eddie Carrier Jr
19)Michael Bradley 20)Shawn Negangard

Heat #6: 1)Jackie Boggs 2)Mike Marlar 3)Steve Shaver 4)Randy Korte 5)Don O'Neal 6)Bart Hartman
7)Jeff Taylor 8)Whitney McQueary 9)Jerry Rice 10)Kris Patterson 11)Paul Harris 12)Doug Drown
13)Cody Mahoney 14)John Anderson 15)Shannon Thornsberry 16)Dennis Potridge 17)Mike Balzano
18)Scott Knepley 19)Steve Kosiski 20)Randy Woodling

B-Main #1: 1)Ray Cook 2)RJ Conley 3)Aaron Scott 4)Delmas Conley 5)Terry Phillips 6)Kevin Weaver
7)Wes Steidinger 8)Mark Voigt 9)Darrell Lanigan 10)Jordan Bland 11)Rod Conley 12)Skip Arp 13)Keith
Berner 14)Jeff Floyd 15)John Blakenship 16)Jason Fegar 17)Tony Marks 18)Josh Williams 19)Jeremy
Williams 20)Jerry Bowersock 21)Scott James

B-Main #2: 1)Terry English 2)Dan Schlieper 3)Tim McCreadie 4)Matt Miller 5)John Gill 6)Randy Korte
7)Jeff Taylor 8)Steve Casebolt 9)Bart Hartman 10)Duane Chamberlain 11)Brian Ruhlman 12)Whitney
Queary 13)Jerry Rice 14)Jeep VanWormer 15)Brady Smith 16)Dennis Erb 17)Brandon Kinzer 18)John
Mason 19)Bob Lanter 20)Paul Harris 21)Randy Weaver 22)Donnie Moran 23)Don O'Neal 24)Kris
Patterson

2005 World 100
Finish: 1)Dale McDowell 2)Darren Miller 3)Chub Frank 4)Clint Smith 5)Brian Birkhofer 6)Rick Eckert
7)Tim McCreadie 8)Billy Drake 9)Mike Marlar 10)Dan Schlieper 11)Shane Clanton 12)Ray Cook
13)Greg Johnson 14)RJ Conley 15)Steve Shaver 16)Brad Neat 17)Terry English 18)Aaron Scott
19)Freddy Smith 20)Matt Miller 21)Delmas Conley 22)Davey Johnson 23)Jimmy Mars 24)Billy Moyer
25)Josh Richards 26)Jimmy Owens 27)Jackie Boggs 28)Shannon Babb*

* Shannon Babb crossed the finish line first on lap 100 of the World 100, but was declared 10 pounds
light. Dale McDowell, who crossed in second behind Babb was then declared the winner.

Photos and captions by

Tony Hammett

A look from the back of the 28 car field for the 35th World 100.

Fourth place Clint Smith prior to the start of the 35th World 100.

Darren Miller (32d) edges ahead of Chub Frank (1*) and the pair
would come to the checkers in the same order.

Sporting a paint scheme and logo commemorating his Dad's win in the
World 100 and the DTWC in 1995, Jackie Boggs led the World
convincingly before breaking.

Rick Eckert (24) moves into battle Chub Frank before finishing 6th.

Terry English (96) and Billy Moyer (21) do battle before finishing 17th
and 24th, respectively.

Three-wide battle at Eldora between Billy Drake (9), Mike Marlar
(5m) and Billy Moyer (21).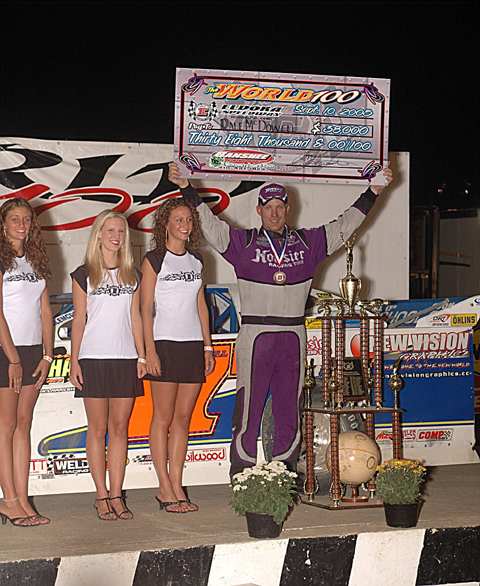 McDowell winner - Subdued victory lane for Dale McDowell after
inheriting the win following Shannon Babb's disqualification for "being
light" at the scales.